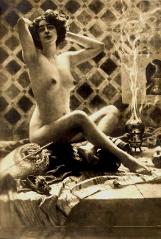 ---
The Amatory Experiences of a Surgeon
Printed for the Nihilists
Moscow
1881
---
CHAPTER I
Not all the glowing descriptions of amatory writers, not the inspired breath of passion itself, can truly, and in sufficient degree estimate the force of those desires, and the intoxicating delirium of that enjoyment in which the softer sex plays so important a part, and in the gratification of which it relishes a more than equal degree of pleasure. Were I to cover these pages with descriptions of the most seductive or lascivious scenes, I should fail to realize its full effect. Language stops short of the reality. No sweeter words, however passionate, however glowing, could transport the bosom, and enthral the frame, like the one magic soul dissolving sensation, experienced by lovers in the celebration of these mystic rites; but if my readers will follow me, while I tell them of some of my amatory experiences, their own feelings may perhaps enable them to sympathise with mine, and thus by analogy, enjoy again some of the most sensual and moving incidents in their own careers. To say that I was born of respectable parents would, in the full acceptation of the words, be false. My mother was of that disgraced and neglected race, a discarded mistress; my father, a nobleman of the first rank, while still a young man, full of the fiery vices of youth, had caught her eye, his handsome form and noble bearing won her simple love. The old story followed. He seduced her, kept her awhile to be his toy, and at length, grown tired of her society, threw her off as a plaything of which he was weary. She died, but he lived on to break the heart of many other innocent creatures. Whatever may have been his errors, among his redeeming points must be reckoned his care of his illegitimate child.
---
After my mother's death I was sent to a boarding school, and at the age of fourteen had grown a tall, well-made and genteel looking youth. It is needless to say, that it was here, in the society of other lads, many of whom were my seniors, that I was first made acquainted with all that is necessary for men to know in a theoretical point of view; of practice with the opposite sex, I knew nothing, but my ardent imagination pictured ecstasies, which fell but little short of the reality, and which was further assisted in its expanded ideas by the scenes we boys enacted among ourselves. All that we could do we did, and we gave each other as much amusement, as we knew how to administer. It was no uncommon thing for us to wander into other boys' beds, and each taking in his hand the warm, half stiffened little member of the other, to produce by pleasing friction, that overflow which, feeble substitute as it was, caused us so much enjoyment. Often too, would one of the bigger boys wantonly insert his glowing affair within the lips of some fair-haired youngster, and there lie and permit himself to be titillated in the most agreeable manner possible. These pastimes were so common that we scarcely ever passed a night without the repetition of some of them. I was not fully initiated into all the mysterious practices of the elder boys till my sixteenth birthday, when they admitted me as a member of the upper-class, as all above that age styled themselves. Their custom was that each lad on attaining the age of sixteen had to give the upper-class a banquet, to inaugurate his admission amongst their privileged circle. My particular chum, Bob Ferguson, had for some time whispered to me when he played with my prick, that there was a great surprise in store for me on my birthday.
---
Well, at last the momentous night arrived, and being the best provided boy in the school, (as to pocket-money), thanks to the liberality of my father, we had a really splendid banquet, which they all declared quite eclipsed any previous affair of the sort. On those occasions our master, usually a strict disciplinarian, generally gave us permission to enjoy ourselves, and make as much noise, or have what fun we liked in the big boys' room. Little could he have ever dreamed of the excesses that were actually enacted at these birthday feasts. After stuffing ourselves with cold game-pie, tarts, and champagne, the real business of my installation commenced by all stripping off their clothes. Even now my soul thrills as I recall to mind that room full of handsome naked youths, several of them as handsome as Adonis himself, some of the eldest having quite a beautiful growth of silky hair ornamenting their pricks, and my readers may be sure that inflamed as we were with feasting and wine, the sight of each other's charms made everyone rampant and ready for action. A couple of them now began to handle my tool, gently frigging and pulling back the foreskin as they passed their hands up and down the stiffened shaft; next they proceeded to anoint it with some pomade, and one of the biggest boys presenting his bottom as he stooped forward on a chair, they made me shove into him, till I was fairly in. The delicious warmth of the tight sheath which held me was so exciting, that without further instructions I fucked him as naturally as possible, clinging tightly to him with my arms, and thoroughly enjoying it. Presently the captain of the class, a fine, handsome youth of eighteen, attacked me in the rear, but being well lubricated, although the pricking pain attending his first insertion was rather sharp, he was soon in full possession, and my double position of fucker and fuckee soon drove me almost mad with delight. I seemed to spend my juice again and again every time; he delighted me with his warm overflow in my bottom. At last I fairly fainted from excess of emotion and when I came to myself found I was lying on one of the beds with Bob Ferguson's cock in my mouth, whilst the captain was deliciously sucking my reinvigorated tool. What an orgy of lust we enacted that night! It seemed to me heavenly at the time, and even now as I write these lines my old cock stands at the remembrance of it. Soon after this I left school, preparatory to commencing the career of life, which had been marked out for me; but after a while, finding the occupation of dispensing medicine too irksome, I obtained the permission of my noble parent to study for the medical profession. Accordingly I went to London, and after several years studious application at the hospitals, I received my diploma from the Examiners at Surgeon's Hall, or in modern parlance, from the Royal College of Surgeons. A short time after that I settled in a small practice, at the village near which my paternal patron had his principal estate. It is needless to say that our relationship was kept as secret as the envious gossips of the place could reasonably desire; all they knew was that Lord L—had extended his patronage to me, and that was enough to excite the jealousy of the tuft-hunters of the neighborhood. Notwithstanding these ill-natured people however, my lord's patronage was quite sufficient to bring me plenty of practice, and within a time I became the fashionable doctor of the district. This was not entirely owing to the reasons, cogent as they were, which I have above detailed; to a very natural desire to succeed, and to attention to my patients, combined, I flatter myself, with no mean professional ability, I added the graces of a manly, robust and genteel person.
---
To this latter circumstance, I think, I owe in a great measure, my renown amongst the fairer portion of my patients. My success with these, in love as well as physic, was really marvelous, and I have had as many as three or four people coming to my house in one day for medicine, not altogether of a nauseous description. My father at this time was living at Broad Heath, his residence in the locality; there he kept a mistress, and being himself a bachelor, he spent the most of his time in her society. In my capacity as medical adviser to the family, an office which carried a key to fit all the doors, I had frequently seen and spoken to this lady; she was a woman of perhaps nearly thirty years of age, tall, slender, yet not thin, carrying in all her movements that particular grace which is only possessed by females of this stamp, far from dark, yet sufficiently inclined towards the brunette to prevent her being called fair, with large and full brown eyes, in which floated constantly the light of youthful desire, unsullied by contact with the ruining hand of public prostitution, and fresh from her native atmosphere; her manners were easy and graceful, and her conversation charming. With this lady my fancy soon found a resting place, and full of notions of revenging Lord L—'s desertion of my mother, I allowed myself to cherish ideas of putting in practice a signal retribution. Adelaide, that was the name of this full-blown rose, exhibited in all her intercourse with me so much condescension and regard that I had but little difficulty in persuading myself, her conquest would prove an easy victory. I endeavoured to insinuate myself into her confidence, and hitting upon a few of her weak points, I soon found myself in a position to open the breach. Gradually allowing my feelings to become visible, and watching the effects upon the lady, she appeared to me to be flattered by partiality and she smiled on my suit. Opportunity only was now wanted to complete the adventure, and it was not long before it occurred. One day I was making my usual afternoon's round amongst my patients, when on passing the gates I perceived the chariot of Lord L— emerge with his lordship seated alone with it. Waiting until it had turned an angle of the road, and was well out of sight, I went up to the house, and asked for his lordship—of course he was not at home—and as I was turning, as if to depart, I suddenly asked for the lady, making an excuse about some flowers I had promised her. Being admitted, I found her seated alone, having just parted from my father; we entered into conversation, and I studied to improve the opportune chance by every means in my power. Not to weary the reader by detailing every passing compliment or meaning look, suffice it to say a quarter of an hour found us side by side upon a sofa, with my arm tenderly pressed round the waist of the lovely woman. From this position it was easy to snatch an occasional kiss, and finding no great resistance to this liberty, I proceeded cautiously to others still more daring. My hand wandered over the palpitating bosom of my fair friend, and I gradually turned myself towards her, until our faces met, and my chest pressed her softer charms beneath it. Our eyes met; there was no necessity for words, the soft voluptuous languor in her humid optics was far more expressive than words of the amorous storm within that tumultuous bosom. Fierce lust now took full possession of me, and no consideration, however sacred, would have prevented me from gratifying my burning passion upon the person of the lovely being before me. I sought and found the hem of her dress, and without experiencing much opposition, succeeded in passing my hand up to her knees; it did not stop there, but with redoubled ardour it aspired to take possession of things above. A thigh of large and beautifully moulded proportions ravished me with its softness, yet further, a mossy growth of fine down hair rewarded the boldness of my searching hand. Wound up to a fearful pitch of excitement, I worked my finger into as charming a little recess as ever tempted man. Delays are dangerous, more especially in love, so say the eager, and so thought I, as stealthily unbuttoning my nether garments, I slyly introduced my firm and excited weapon to the lovely spot. A voluptuous shudder passed through her frame the first touch. I press forward, a murmur of resentment breaks gently from the lips of my companion; I feel the commencement of the soft insertion, and bursting with impatience, I bury myself in the body of the dear girl. Once fairly in, how I did revel in charms of such a luxurious nature. Fiercely did I move in and out of the tight, lusciously clasping case, which clung so amorously with its soft juicy folds to the shaft of my delighted weapon of love. At each thrust she sighed more deeply, and as the maddening moments passed, and the intense enjoyment lashed our passions into fury, she hugged my form closely to her, whilst low murmurs of wanton pleasure escaped from the dewy lips which had just previously essayed to express her resentment at my outrageous conduct. Nature could no longer restrain her tribute to the efforts of love, which now produced their usual effect, but in a more exaggerated form. I felt the approach of those moments, during which we die a thousand deaths, as the fires of fierce lightning dance through every nerve. It came; I fell forward. Description is vain to paint my feelings. A quivering agony of pleasure seized us both—a delirious desire to press our souls and bodies closer in communication, a mutual rush of that hot balm, which finally relieves excited nature, closed out transports and left us breathless, hot, and moist in each other's arms.
We remained for some moments closely entwined in each other's embrace, and exchanging those little gentle tokens of gratified passion that usually mark the period of listlessness, succeeding the fierce energy of previous action. At length we separated, but only to adjust our somewhat ruffled habiliments. She then made me sit down by her side, and it was not long, before I found my champion growing restive beneath the touches of the soft warm hand, which she had inserted into his nest. Not contented however that he should remain thus concealed, she with a slight jerk brought my stately toy into daylight, the proceeded to examine it in every direction. This amusement I found highly gratifying to my own senses, and soon induced such a state of erection as to give fair promise of a refreshing spurt to the lovely operator. A new idea seemed to strike her, and sliding on to her knees between my legs, she wantonly caressed my member, all hard and excited as it was, and after lengthened hisses, slowly let it slide into her mouth, and then so tickled it with her tongue, and pressed it between her moist lips, that I was fain to cry "hold!" and abruptly withdrew my instrument for fear of a discharge. But if I deprived myself of one opportunity, I quickly found another opening, not less delightful than the less usual entrance I had just quitted. We gave ourselves entirely up to the rage of our voluptuous sensations; I wriggled and pushed, until I lay gasping on her breast in the soft agonies of a bountiful emission. Again and again I cooled my raging lust, in the arms of this charming woman, who was ever ready to respond with all the ardour of her sensuous nature to the continued resurrections of Cupid's battering ram, which she laughingly assured me was a perfect phoenix of its kind.
At last exhausted nature refused longer to sustain my desires, and after much loving dalliance and promises of a speedy re-union, the highmettled pego had to confess himself vanquished, and slunk away crestfallen from the field of love.
CHAPTER II
When Sappho loved a fair being of her own sex even to madness, she doubtless found a means to gratify the passion with which she burned, although to us men, and more especially to medical men, it is surprising how a perfect enjoyment could be arrived at, without a penetrating power on either side. Woman is formed to receive within her the all-important member of the other sex, and if she is deprived of that, there is but one substitute to compensate for the loss, and that is imagination. But the inspired poetess possessed imagination in an inordinate degree, and no doubt she brought it into play, in those soft encounters of which the old Greek writers tell us, a sufficient amount of that essential to constitute a pleasure no less keen than a novel. And so in the present day what is wanting in absolute reality, is an imaginative mind supplied by the fancy. When a man gives himself up to the pleasures of self-enjoyment, does not the idea that he is procuring these agreeable sensations my unnatural means, tend to heighten his feelings. And does he not try to picture—aye, to a marvelous exactness, how he would feel, were those finishing throbs of ecstasy experienced upon the panting bosom of the lovely being he is lusting for? Even so, this pleasure, in whatever degree it is experienced, is ever to be increased by the action of the mind. You are mounted on the body of a woman of pleasure, you imagine, perhaps in ignorance, that you are the first to pluck the maiden flower from a lovely and innocent girl. Have you not precisely the same sensations that would be experienced in the actual deflowering of a maid? Of course you have; and in no case can the adage be more properly applied, than when in allusion to such a deception it is remarked: "Where ignorance is bliss, 'tis folly to be wise."
The mind has everything to do with the action of the body in matters of this nature, as in all others, and in none in a more direct degree. It is the knowledge that you are engaged in the act of the greatest indecency, that you are in fact uniting the most outrageously sensual part of your body to that of a no less sensual part than the woman's person; that you have pushed that lascivious instrument of yours to the utmost within her belly, and that you are about to flood her very vitals with a stream of that all wondrous fluid with which man is endowed. That is what constitutes the zest of enjoyment with a man of sensual mind, and any pictures which add additional piquancy to the act, are provocative of increased ardour and enjoyment. I have wandered out of the course of my narrative in rather a discursive manner, but I must beg forgiveness of my readers for the foregoing homily, as it may explain in some measure the acts which are to follow, and which might otherwise appear purposeless. With my fair friend of the preceding pages I passed the following morning. In her arms I wantoned away a couple of hours; again she gave me the same pleasure, and once more she received the strong champion of her desires between other lips than those naturally formed for it. This time I was resolved to let matters have their course. She sucked and pressed my prick with her lips and tongue—it grew excited; still the delicious friction was continued, and new excitement added, until I was obliged to caution the fair girl of the inevitable result. She redoubled her caresses; nature could stand it no longer, and with a fierce cry of furious delight I discharged in her mouth, which was filled with the creamy proofs of my perfect enjoyment. So far from resenting this premature result, she evidently relished the termination of the scene, and swallowed the sperm with the gusto of a determined votary of Priapus. Since this adventure I have known many women prefer by far to have the seminal shower bestowed upon their mouths, rather than receive it in their cunts, and I have enjoyed in more than one instance the pleasures of a similar penchant. Although my conquest pleased me at the moment, I soon found the temperament of the lady was not such as to ensure a lasting ascendency over me, and about two months after our first embraces, we were parted in a rather unexpected manner. I had gone one day to visit Adelaide as, usual, at a time when I knew Lord L—was absent, and I was about to enter the conservatory, on my way to the drawing room, when the sound of voices in that apartment made me pause. They appeared to be those of a man and woman, and I had no difficulty in recognizing the latter as belonging to my fair friend. Curiosity and a stronger feeling caused me to approach cautiously; as I advanced, I heard evident sounds of ardent osculation, and placing myself behind the half-opened door, I plainly saw a scene I shall never forget. Lying on a sofa, her plump buttocks elevated upon the round end, and resting herself on her chest and elbows, with her clothes thrown over her back, disclosing all her most secret treasures, was Adelaide; while standing behind her bottom, his trousers about his legs, and his prick standing up in front of him like a constable's staff, was the six-foot butler, a tall strapping fellow of most important dimensions. As may be readily supposed, he was not long idle; making a passage between the cheeks of my little Adelaide's bottom, he plunged his tremendous prick up to the hilt in the cunt of my young lady, who by the wriggling of her buttocks, and the low murmurs of delight which I could distinctly hear, as she endearingly besought him to push and give her all he could, was evidently greatly relishing the assault of her huge antagonist. At it they went: He all fury and lust, and she not in the least less wantonly excited.
As the huge yard moved in and out of its moist sheath, it literally glistened in the sunlight, while the beams of old Phoebus were full upon them. (What luscious sights were old Sol must often enjoy, and he deserves it too, as but for his enlivening warmth we, poor mortals, should be little fitted for the pleasures of coition). I saw the stretched lips of her delicious cunt close on his prick with such a force of suction, as I knew would soon prove their amply sufficient power to bring him to a crisis, but, alas! Infidelity, at least in this instance, was to meet fitting reward. As the sturdy butler drove against the yielding bottom of the fair girl, the concussion caused the sofa to move forwards by slow degrees, carrying with it its lovely and wanton burden, until it reached a small table, whereon was placed a set of Chinese chessmen arranged for battle on the ivory board. As the sofa reached this table, a tremendous lunge from the now dreadfully excited fuckster overturned the obstacle with a loud crash, and my lovely but faithless Adelaide, raising her head to discover the cause of the disturbance, overbalanced the sofa, making it rear up on one end, must as the crisis of the stalwart champion approached, brought the frightened girl bodily upon him; in fact, at the very moment of the coming ecstasy of emission, when quite unprepared for such a shock, she fell back, and carried her companion to the floor as well, where he lay with her upon him in a half fainting state, as he still lightly clasped his love around her buttocks, his instrument of pleasure standing up between her open legs, and inundating her belly, neck, and even her face with a copious shower of sperm. It was in this position that I surprised the combatants on entering the room; imagine the horror of the big butler, and the confusion of Adelaide! Gathering up his trousers, the guilty domestic made a rapid exit, and I was left alone with the softer culprit, who, between rage and terror, could hardly contain herself. She reproached me with intruding on her privacy.
"Yes, my pet," I replied, "I am so sorry for having disturbed such a truly delightful séance of love. I owe you a thousand apologies,, my dear Adelaide; may I be allowed to atone for it by finishing what Perkins was prevented from thoroughly accomplishing?" My satirical smile, as I said this, drove her almost beside herself with rage. She ordered me to leave the room, and continued relentless in spite of my assertion, that I loved to go in directly after another man. "Wretched spying beast," she hissed between her clenched teeth. So turning on my heel with a cynical observation, that I thought in her case the Eastern girdle of chastity would be very useful to her lord, I left her to her own reflections, resolving in my own mind that, as my father's place was so well filled by his butler, it was no longer necessary for his son to try to compensate his fiery mistress for that which he could only administer in insufficient doses, not enough to satisfy the craving appetite of his fair protegee. I now renewed my application to my professional studies, and succeeding in effecting several cures in cases of importance, where the remedies applied by many eminent members of the art of healing had failed. Among my patients, some of whose cases were successfully treated, by means of a rather novel expedient, were two sisters, the daughters of a gentleman of property in the town, the particulars regarding whom are, I consider, of sufficient interest to be related in the next chapter.
CHAPTER III
It is one of the requirements of society that the feminine portion of it should wear, at least to outward gaze, the semblance of virtue, yet there is nothing in female human nature which is more difficult to adhere to. Among the males, society tolerates vice of all kinds, which does not actually bring the perpetrator within the pale of the law; but with woman one false step, nay, the very breath of slander is sufficient to cast her, a degraded being, without the pale of its magic circle. Can we picture a more pitiable position than that of a young woman, in the prime of her youth and beauty, condemned to await in silence the advance of the opposite sex, with the knowledge that the person whom she is prevailed upon to accept at last, may after all turn out to be an impostor, totally disqualified for performing those functions which are necessary to the happiness of married life. We, medical men, are not ignorant of the secret pangs and unruly desires which consume the bashful virgin, and which society with its ordinances alone prevent her from finding a safe vent for. We have often the means of tracing all the passionate thoughts, and sometimes the wanton doings in secret of those whom kind society has condemned to disease, rather than to allow nature to take its own proper course, and allay those symptoms so detrimental to young girls. Who shall say, how many victims have been sacrificed on the altar of mock modesty for fear, lest the disgrace of the only natural cure for their complaint should blast their characters. I have alluded to the circumstances which have come to my knowledge from tine to time, with reference to the expedients made use of, to allay those raging fires which in too many cases prematurely exhaust the constitutions of our young women, and one of these cases will suffice to prove, how ingenious are the designs to cheat society of its whimsical requirements.
A young lady, not yet eighteen years of age, was under my care for a complaint of the bladder, in which the symptoms denoted the presence of calculus, or stone. An operation became necessary, which the patient underwent with unexampled fortitude. I could not conceal a suspicion from the first that the young girl could, if she choose, enlighten us to the nature of the case, but strange to say, she absolutely preferred to submit to a painful and dangerous operation, with the knowledge that death might possibly ensue rather than render us any information which might lead to a correct conclusion. The operation was performed successfully. A mass of calculus was removed, and as these formations never take place without something to build up a "nucleus," we began to search. We recommended the usual examination, when we discovered that the formation had for its nucleus a hair-pin, which must have been introduced by the fair hands of the young patient herself, and doubtless not without a sufficient covering to render the insertion tolerably agreeable. The result was that the inexperienced girl had allowed the hair-pin to become disengaged, and instead of getting into the entrance she had intended, it had slipped into the urethra, and thence into the bladder, from whence the very nature of its shape had prevented its returning. This instance is only one of a number I could give my readers, illustrative of the shifts young ladies are frequently driven to, in order to satisfy in secret by illicit means, those desires which they are prevented from openly exhibiting, and which they dare not appease by nature's only fit and proper remedy, connection with the other sex. I have promised in these pages a faithful recital of events, which have befallen me, have left a sufficiently warm interest in their remembrance to entitle them to a place here, and true to this promise I am about to relate my adventure in the case of the sisters before alluded to. As I have already stated, they were daughters of an opulent resident in the town. They both inherited the pretty face and elegant form of their mother, who when they were quite children, had committed them in their last hours to their father's paternal regard. I was the medical attendant of the family, and as such it fell to me to be depository of such little complaints as these two young beauties had to make. At the time I write, the elder was just sixteen, and her sister not yet fifteen. I had of late observed in the older those usual indications of approaching puberty, that disturb the imagination of young girls, and I knew from her symptoms that nature was working powerfully within her to establish her claim to be treated as a woman. One day on calling, I found that found Mr. H—had gone out hunting, and would not return until late in the evening. It was then four o'clock in the afternoon of a hot and close summer day. The two young creatures were alone, and received me with the modest grace so captivating to a young man. I stood and chatted, until the time for paying my other visits had passed, and as none of them were pressing and could as well be paid the following day, I remained to tea. After tea the younger of the two girls complained of headache, and after a little while she went up stairs to lie down, leaving her sister to sustain the conversation. I played the agreeable with all my powers of attraction. I gazed on her with longing eyes. My looks followed every movement of her body, and my wandering fancy drew an exquisite picture of all her concealed beauties. Gradually love grew into ardent desire—a desire so strong that I had some difficulty to keep my seat, while my rampant member stood beneath my trousers with the strength of a bar of iron. Each moment only served to increase my fever, while I fancied I observed an embarrassment on her part, which seemed to hint that she was not ignorant of the storm that raged within me. Innocent as she was, and all inexperienced in the ways of the world, nature stirred within her powerfully, and doubtless whispered that there was some hidden fascination in my gaze, something wanting to content her. At length tea-things were sent away, and I could find no reasonable excuse to linger longer by the beautiful being who had so fiercely tempted me. I rose to go. She rose also. As she did so a certain uneasiness in her manner assured me that she had something to communicate. I asked her if she felt unwell, pretending that I observed an unusual paleness on her lovely face. She said she had something to tell me, and proceeded to detail the usual symptoms of a first perception of the menses, &c., which had occurred a few days previously, and which had at first much alarmed her. I re-assured her on this subject, explained the cause, and promised relief. And on taking my departure I requested her to come to my house on the following day, and said I would then investigate her case. With what impatience I passed the interval, may be easily imagined by any of my readers who have been similarly situated. But as the longest night must have at length an end, so did this, and morning broke to dispel the restless dreams of unruly passion which had held me enthralled. I anxiously awaited the time of my young patient's arrival, and my heart danced with joy, as I heard her timid knock at my street-door. She entered—heavens! how my prick stood—how beautiful she looked. I stand even now when I think of that sweet vision. Over a plain skirt of black silk she wore a mantle, such as becomes young ladies, with a neat little bonnet. Pale kid-gloves set off her exquisite little hands, and I noticed that her feet were encased in boots any lady might have envied. I hastened to make her take a seat in my study. I entered fully into the particulars of her case. I found as expected, that she was experiencing the full force of those sensations which were never intended to be borne without relief, a relief I was panting to administer. I told her of the cause of her own symptoms. I gradually explained their effects, and without shocking her modesty, I contrived to hint at the remedy. I saw she trembled as I did so, and fearful of overreaching my purpose, I broke off into a warm condemnation of that state of society which allowed such complaints to blast in secret the youth and beauty of young girls like herself. I went on to hint at the evident necessity, there was for the medical man supplying those deficiencies which society left in the education of young ladies.
I spoke of the honourable faith which they maintained in such cases, and of the impossibility of anything entrusted to them ever becoming known. I saw that she was so innocent as to be ignorant of my purpose, and burning with lust I determined to take advantage of her inexperience, and to be the first to teach her that intoxicating lesson of pleasure which, like all roses, is not plucked without a thorn. I gradually drew near her. I touched her—she trembled. I passed an arm around her slender waist, the contact literally maddened me. I proceeded to liberties which to a more experienced girl could have left no doubt of my intention. Upon her my touches had only the effect of exciting more strongly within her breast those sensations of which she already complained. I was now fairly borne away by my passions, and throwing my arms round the innocent beauty, I covered her face and neck with fierce humid kisses. She appeared to be overcome by her feelings, and seizing the moment I lifted her like a child from her chair, and placed her on a couch. I removed her bonnet, and without meeting with any resistance from my victim, for contending emotion had rendered her all but senseless. I carefully raised up her clothes. As I proceeded, I unveiled beauties enough to bring the dead to life, and losing all regard to delicacy I threw them over the bosom of the sweet girl. Oh, heavens! what a sight met my gaze, as slightly struggling to escape from my grasp she disclosed fresh secrets. Everything now lay bare before me, her mossy recess, shaded by only the slightest silky down, presented to my view two full pouting lips of coral hue, while the rich swell of her lovely thighs served still further to inflame me.
I could gaze no longer. Hiding her face with the upturned clothes I hastily unbuttoned my trousers. Out flew my glowing prick, standing like a Carmelite's. I sank upon her body; she heaved and panted with vague terror. I brought my member close to the lips. I pushed forward, and as I did so, I opened with my trembling fingers the soft folds of her cunt. I repeated my thrusts. Oh, heavens! how shall I describe what followed. I gained a penetration. I was completely within the body of the dear girl. I sank upon her almost fainting with delight, my prick panting and throbbing in her belly. Oh, the ineffable bliss of that encounter. My pen trembles as I revert to the scene. What followed, I scarcely know. I pushed again and again, until I felt myself getting dangerously near the crisis. I observed her soft and still gloved hand beside the couch, I seized it, and covered it with kisses. Heavens! what fire ran through me. I burned; I was on the point of spending. Not unmindful of her reputation, even at that intoxicating moment I felt the approach of the blissful moment of emission, with fear I thrust once more. My prick seemed to traverse the full extent of her belly. Then groaning in the agony of rapture, I drew out my bursting member, and falling prone upon her I drenched her little stomach and thighs with almost a supernatural flood of sperm. I lay for some time so utterly overcome with the intensity of my feelings that I could only close my eyes and press the dear girl to my breast.
At length I rose, and carefully removing the reeking traces of victory, I adjusted the tumbled clothes of my companion, and then taking her tenderly in my arms, I placed her in an easy chair. I shall not attempt to describe all the degrees she went through, before she came finally to herself, and to a full knowledge of her complete womanhood. That she never blamed me for the part I had acted was the best guarantee that she had not regretted the accomplishment of my pleasing conquest. On recovering from the confusion and dismay, consequent upon the event I have just narrated, my fair patient lost none of her volubility, but talked away on the subject of our recent encounter, and asked so many questions that I had hardly time to reply to them, ere she puzzled me with fresh ones. Before she left me I had initiated her into the exact proportions and nature of that potent invader, whose attack she had so lately sustained. The handling to which my prick was now subjected in no way reduced its desire for a second engagement, but a consideration for the delicate state of my new made disciple, and the tender condition which I knew her very little privates must be in, induced me reluctantly to postpone any further attempt, and she departed from my house, if not a maid, yet a perfect woman.
CHAPTER IV
Nothing could exceed the caution with which we concealed out secret enjoyments from every jealous eye, and yet I trembled lest my indiscretion should become known. There was only one thing for which we both panted, and that seemed too dangerous to be put into execution. Julia had often received the entire length of my large member in her little cunt, but that was the sum total of our bliss; to emit there was more than I dared. Several weeks had elapsed since the commencement of our intercourse, and during that period I had been unremitting in my attentions to the youthful charms of my new acquisition. She pined for the enjoyment, but I knew the risk of indulging her in her desires. Fear of getting her with child was with me always paramount, for although as a medical man I might have enabled her to get rid of the burden before maturity, yet I was alive to the dangers attendant on so serious an undertaking. One day, as with many sighs and much regret on both sides, we proposed to omit the most usual way of finishing the performance for the Cyprian rites, Julia gave vent. Julia, worked up almost to frenzy by the sweet friction, refused to permit my withdrawal and throwing her arms round my loins, she finally detained me, while with wanton heaves and every exertion in her power, she endeavoured to bring me to the spending point. I was alarmed for safety, and vainly struggling to free my rampant prick from the warm sticking folds that environment it.
The more I struggled the closer she held me, and the more I drew to the dreaded moment the more she exerted herself to produce the feared emission. "Stop, stop," I cried. "Julia, my darling girl, I shall do it, I know I shall. Oh!" I could say no more, but with a violent drive forward I sank spending on her belly; my prick fairly buried in her up to the hair, and the semen spouting from me in torrents. As for my wanton companion she threw back her head, and received the dangerous fluid with as much enjoyment as if it were herself who was trembling in the rapturous agony of its emission. Trembling in every limb, as much from the rear of the result as from the excitement of the act, I rose and helped the tender Julia to her feet. As she got up, a heavy pattering sound announced the return of the fluid which fell in large drops upon the carpet, and ran in rills down her beautiful thighs. A few days after this affair we were diverting ourselves with sundry little freedoms one towards the other, when Julia seizing my prick in her soft white little hand, threw herself upon the sofa, and drawing me to her, commenced to kiss and toy with my member. This, as may be supposed, afforded me considerable pleasure, and I let her do what she pleased, wondering all the time what her next gambol would be. From kissing she took to sucking, and this delicious touch of drawing lips soon inflamed me beyond all restraint. Again she took it from between her lips, and holding the loose skin tightly in her grasp, she made her hand pass rapidly up and down the huge white shaft until I heated to the utmost and almost spending, I jerked it out of her grasp.
"Ah, my lad, you were afraid it would come out, were you?" I replied that I was only just in time to prevent it, upon which with a laugh and a smack on the ticklish part in question, she exclaimed: "Well, then, my fine fellow, we shall see what we can make come out of that large round head of yours." Then suiting the action to the word she again commenced the agreeable titillation, until with nerves strained to the utmost pitch of luxurious excitement, I felt the approach of that rapturous ejaculation. Jutting out my member before me I heaved my buttocks up and down, and with a few motions of her hand Julia fairly brought me to the emitting point. With a sigh of heavenly enjoyment I let fly the hot gushes of sperm on her bosom, while her fair hand retaining hold of my throbbing prick, received a copious flood upon its dainty surface. After this we would frequently lie down together on the soft hearthrug, and each with a caressing hand on prick and cunt, produce in one another those delightful effects which, say what people will, give a spur to the passions no man or woman can resist. We would operate on one another in this way until prudence compelled us to stop for fear of the concluding overflow, and then waiting for a few minutes, would once more bring our senses to the verge of the impending flood. These hours were wiled away until a serious cause of anxiety arose to put an end to our security. As I had feared, Julia proved with child; how could she be otherwise, with such an opportunity. As soon as she made me acquainted with the fact, I prescribed for her but without effect. The prolific juice had taken firm hold, and nature was progressing in the formation of the little squalling consequences of our amour. My anxiety was now intense least the discovery I saw impending should, in spite of our endeavours, overwhelm us. Under these circumstances I determined to take a resolute course. I operated on my little Julia. I succeeded. I brought away the foetus, and removed with it all danger of discovery. The result was not so favourable with regard to the health of my patient. Our overheated passions had put an end to youth's dream of uninterrupted enjoyment in a continual round of sensual pleasure, and Julia had now to reap the harvest of her indiscretion. She soon fell into a weak state of health, and I recommended immediate change of air. Her father, alarmed at her indisposition, took her to Baden, and after a residence of some months there, the roses again revisited her cheeks. At Baden, she was greatly admired, and soon received an offer for her hand, which her prudent father did not feel justified in refusing and she became the wife of a Russian prince, who if he did not get with her that unsatisfactory jewel, her maidenhead, at least became possessed of a cunt well practised in all the arts of love and lechery. Thus terminated my amour with one of the most agreeable and most salacious girls I have ever known, and my prick still stands at the recollection of the various luscious scenes in which we have mutually carried away by the violence of lust in its most enticing form.
CHAPTER V
I now gave myself up without reserve to the pleasure of love. All my patients who showed the least susceptibility were overcome by my potent argument, and vigorously fucked. I varied my pleasures in every possible way. Nothing which could enhance the enjoyment did I scruple to call into action. I fucked. I kissed. I sucked. I underwent all these operations myself, and I found a delicious retreat between the buttocks of one of my fairest patients, I hesitate not to own it. I penetrated those regions intended by nature for further purposes, and I declare that the pleasure I derived was proportionally as great as the act itself was indecent. I became a lover of this mode of dalliance and never spent with so much relish and impetuosity as in the beautiful bottom of a fair woman. And it must be owned that these parts themselves are wonderfully well adapted for the purpose. The natural construction of the entrance, the soft interior, and the length with which they are capable of receiving the longest male member, render the art unique; while the fiery heat experienced by the operator, and the accumulation of delicious sensations, produce in their turn a stiffness, a vigour, and enjoyment without parallel. One of our greatest poets, he whom no censure, no authority could debase to mere conventualism, extols in his own fervent gloomy strains the much forbidden pleasure. Oh, lovely woman, by your maker's hand For man's delight and solace wisely planned; Thankless is she whose nature's bounty mocks, Nor gives love entrance wheresoe'er he knocks.
A considerable portion of my pleasure consisted in reading and showing to others curious amorous works. Of these I possessed a large collection. Several of them were in themselves a budget of exciting literature, of a rare and costly description. One of them was the celebrated work of the Marquis de Sade, over which it is said that extraordinary man went out of his mind. I allude to "Justine," and if the quintessence of sexual excitement and glowing scenes that beggar description can be productive of sufficient effect to produce such a result, even to the author himself, this rare and fearful work is certainly the one capable of doing so. The wonderful descriptions it contains, the fiercely exciting scenes it depicts, and the exhibition of so many varied means of producing the acme of enjoyment, render it no less valuable for its deep effectual influence over the passions than for its deep philosophy and wonderful power of reasoning which stamp it as the work of a genius of extraordinary talent. Satiety, that enemy to the indulgence of the soft enjoyment, now attacked me, I wanted a change. My powers were naturally great, my health robust. My member became sick of sliding in and out of places so often visited, and in which it had so frequently left his tears of gratitude. I longed for an unripe beauty, a young girl, a child even—to caress, to lie with, to suck. I found a lovely little girl of thirteen years of age, who had been under my care for a spinal affliction, in the treatment of which complaint I had been for a long time acknowledged a successful practitioner. She had been an inmate of my house in order to be more fully under my care. Her friends were resident in another county, and had such confidence in my discretion that I believe had I even proposed to have slept with their niece they would have thought it was only a part of my system.
Mary had been with me about a week, when I found so much pleasure in her society that I began to feel a curious sensation about the region of my privates on beholding and listening to her sometimes in the evening. I made her sometimes sit with me by the fire, when I would place her on my knee, so that her sweet little bottom would be immediately over my stiffened member, which by its throbbing and jerks caused her to sit rather uneasily, and thereby induced a gentle friction which was highly agreeable to me. One evening, having been more than a week without food for my passions, which were becoming riotous, I could restrain myself no longer. I began to play and romp with my little companion in such a manner that I frequently had my hand on her naked knee, and even once or twice on her thigh. Her flesh felt soft and warm, and my desires began to master my reason. I tried further advances, taking care not to startle the innocent girl out of her confidence in me. By degrees, under the pretence of tickling her to excite her laughter, I reached the goal of my desires. My hand, the tip of my fingers only, touched her pouting little beardless cunt. A thrill shot through at the contact. It was soft as her damask cheek, and the warmth of its velvet skin sent fire through my veins. I now endeavoured to advance, but she held her legs firmly together, not apparently altogether relishing the tickling sensation my intrusion produced. She was an excitable little girl, however, and soon, by suddenly pretending to throw her backwards, I got her to open her legs. And then, oh! how I stand when I even refer to it. I placed my smooth fingers in the open slit; it was as moist as the interior of her lovely mouth, and the opening was small, and apparently intact.
My readers may wonder perhaps at the above remark, but my experience has shown me that in very many cases young girls, long before they reach the age of fourteen, cannot strictly be said to be possessed of a perfect maidenhead. The cause is this. What with the early efforts prompted by nature to break through the restraints she has herself placed in that tender spot, by the self-introduction of their little fingers, and other inanimate objects, and the effects of the society, and even the bed-fellowship of boys from twelve to fourteen years of age, who frequently effect a penetration in very young children with their small but stiffly erected member, young girls on reaching puberty are seldom possessed of the imaginary jewel in its full perfection, at least so far as regards the lower and middle classes of society. I could enumerate many instances of the truth of what I here affirm. For instance, I recollect a case which occurred at school at which my father had placed me. The master of the academy had a little daughter, nearly twelve years of age, when the circumstance happened to which I am now drawing attention. This child was allowed considerable liberty, and she would after school hours mingle with us in the playground. There were not wanting boys ready to take advantage of such opportunity to investigate the hidden treasures of nature. Little Miss being inspired with a similar desire, soon had several admirers, with whom it was a delightful pastime to feel and tickle each other's curious little secrets. From feeling they soon arrived at conjunction, and it was not many days before one of the boys possessed of a longer and stiffer instrument than his companions, fairly penetrated her gentle belly, and deposited his little drops of pleasure within her vagina.
He was of course followed by others, and this young girl, before she reached the age of twelve and who was considered by her parents an emblem of innocence, became the juvenile harlot of the school of thirty boys, and rarely passed a day without receiving the vigorous attacks of at least three or four of them. A discovery came at last, but not before a junior usher, a tall, strong, young fellow of twenty had himself found out the state of matters, and under a threat of disclosing the affair had forced the little girl to submit to his own embraces. In consequence of this unusual attack, and the pain she suffered from the distention of her parts by the much greater size of the new champion, the doctor discovered the affair, and they removed the child at once. But to return to myself and my little playmate. When she found my hand in possession of what she had no idea of the use of, she tried all in her power to disengage herself, but I took care her struggles should be unavailing, and at length she laughingly ceased them. I now roamed over her little charms at pleasure, but my prick was up, my boiling point was reached, and I cautiously laid her lengthwise on the sofa, and getting on her pulled out my member standing stiff. Moistening it well with saliva I put it to the tender orifice and pushed. Up to this time my young companion had no idea of my intention, and wonderingly submitted to my caresses. She now felt the painful pressure I was causing with the large had of my prick, and would have averted my attack but that I kept her steady with my left arm round her waist. Again and again, I attempted the entrance. I was foiled, until suddenly a squirt of sperm came to my assistance. Once more trying the now moistened barrier, the head of my prick went gradually in as far as its junction with the shaft. There it stuck, and my excitement being now at its height, I spent. The hot thick fluid escaped from me in streams, and inundated the soft and stretched interior of her belly. During the emission I gained about another inch, but no more, and only at the expense of much pain to my youthful mistress. In the course of the following day I repeated my attempts upon Mary's little fortress, and at length demolished her natural defences, and plundered the whole length of my machine into her vagina. The enjoyment was extreme, and the tightness of her little unshaded cunt soon brought on a most plentiful shower of semen, which I freely poured into her, secure by reason of her tender age from any unpleasant consequences of the amour.* [note by the editor. The narrator was fortunate in this respect, for the confidence he expresses is certainly without foundation, as at the moment of going to press with this work, he knows of a case, the little daughter of a stevedore at Bermondsey, who, although not eleven years of age, is eight months gone in pregnancy, and when the parents first discovered the state their child was in, she had been carrying on her amour with a full-grown man for upwards of four months.] Little Mary, when her passion had once been thoroughly aroused, proved to be most lasciviously inclined. For fear of injuring her back or putting a dangers strain upon her tender spine, I made her lie as still as possible, in which position she was delightful for me to stir up her vitals by the gentle movements of my big prick, which would quickly come to the crisis of emission, so deliciously tight did her little cunt cling round its ruby head. She was one of the most apt little pupils I ever had in the art of gamahuching. We used to do the double, both of us stripped perfectly naked on her bed, (this was only done when I visited her in her room, after my household had all retired for the night), then she would reverse her position, and lie over me, burying my face between her thighs, whilst I returned the attentions she so delightfully bestowed on my prick, by sucking and tongue-fucking both her pink little cunt and her rosy wrinkled little bottomhole, until she spent over and over again in my mouth, each pearly drop as precious to me as the most veritable elixir of life, for streams of sperm literally spouted from my prick in response to these proofs of her ardent enjoyment. How she sucked my prick first, and then cuddled it between her throbbing titties, till it came again. What transports of ecstasy seemed to carry us both away it is impossible to describe in these pages. She told me that she longed to feel me move within her, with all the furious energy of which she knew I was so capable, and that her having to keep still, and my gentle movements when I fucked her, only seemed to excite without giving her that full satisfaction which she instinctively felt could only be obtained by giving full license to all our desires by a perfect abandon of voluptuousness in those ecstatic conjunctions of which I had hitherto so imperfectly given her an idea, of the heavenly joys she yet anticipated to receive in my arms, adding that she had most enjoyed it, when I completed her ravishment on the second day of my attempt, and that although she had actually fainted under the excruciating pain caused by the entrance of my big affair into her tight little cunny, yet in her trancelike swoon she had experienced such supernatural pleasure, as she had never felt since. "Do, darling," she added, "fuck me with real energy, if only for once; do let me feel what the ecstasies of sexual conjunction are really like; let me die of love for once, if I am never able to bear it again. You know the complaint, my spinal affliction, will never let me recover sufficiently to be married." Thus appealed to by the loving little Mary, I consented to fuck her properly, but only on one condition, and that was that she must allow me to tie her down, face downward over the couch in my surgery, so that I might give her every possible satisfaction by my own movements, and yet be sure that she would not injure herself by twisting about as I know that otherwise in the abandon of her ecstasy she would be almost certain to do. The next afternoon, just as I was certain all the morning calls were over, and was looking over my notes to see what visits I had to pay, a gentle tap at the surgery-door reminded me of my promise to Mary. She entered, saying with a most bewitching smile on her usually pensive face: "Now, sir, I mean to keep you to your word; do you think I will let you go round and fuck half a dozen of your lady patients first, why there would be nothing left for poor little Polly. I want every drop of that life-giving fluid; if I die, you shall be as dry as a stone before you go out today." My time was really precious, but there was no gainsaying the darling, so with many preliminary kisses and endearing touches, I first locked the door. Then we both divested ourselves of everything we had on. My impediments were only dressing-gown and trousers, whilst Mary was also in equally light marching order. The couch I proposed to lay her down upon was a veritable battleground of Venus, having been made for my special use, according to ideas which I furnished to my upholsterer; and could my readers but have the experience of that sofa, instead of this partial scrawl, they would indeed have a repletion of luscious adventures, ad nauseam. To return to my tale, this couch was very wide, with no back, and a scroll-head at one end, whilst what would be considered the foot was half-moon shaped, so that when a bottom or a pretty cunt was exposed to my attack, I could stand well between the open legs of my fair patient and administer my natural clyster with the greatest possible east to myself, either standing or kneeling on a hassock. This couch had a most beautiful springy motion when under a pair of lively lovers, being constructed with a special eye to luxurious effect, and it had also screws at each end and in the centre, so that I could elevate the head, bottoms, or bodies of my patients to suit the ideas to be carried out. Mary was all docility, and quietly placed herself on her belly upon this throne of love; using cords to secure her by the wrists and ankles, I then finished the tying by firmly fastening her body down by means of a long sash passed under the sofa, and over her back. "Now, my darling, you are completely at my mercy!" I exclaimed with a laugh. "I think I ought to birch* that naughty little bottom for you, but instead of that I will kiss it." [I used this couch sometimes to tie down and flagellate several of my old male patients, whose early excesses had made them too used up for the sport of love, and could only enjoy the pleasures of emission under the stimulating effects of the rod. It was one of the most lucrative branches of my profession.] Kneeling down I adjusted the height of her delicious little cunt, till it was exactly opposite my eager lips, so was also that ravishing little wrinkled orifice which nature placed so close to it, that it is impossible not to believe it ought to have its due share of attention from both prick and mouth. She was already spending in anticipation. My tongue revelled in that creamy emission, till she was almost beside herself, and actually screamed for me to let her have my prick. "Oh! oh! darling, I must have the real thing at once. Oh, don't tantalize me so, dearest!" But that was not my intention at the moment. I wanted an even more luscious enjoyment, to take her second maidenhead in fact. Leaving her delicious little cunt, my tongue titillated that other rosy aperture, till she was almost mad, and her appeals for satisfaction were getting quite piteous. "May I go in here then, darling?" I asked. "You will find that it surpasses anything you can imagine, love." "Yes, oh, yes, anywhere; kill me, if you like, but make me feel that ineffable pleasure which I know only a prick can give, you drive me wild!" Cold cream was handy on the table, so well lubricating the entrance, as well as the head of my pego, my rather big prick effected an entrance much more easily than it had the first time I tried to ravish her cunt. Her face was turned round towards me, and I could see tears of pain start to her eyes, as I gradually pushed past the sphincter muscle, but then easing for a moment or two, I began slowly to move within the delicious sheath, which held my affair so tightly clasped within its folds, and throbbed so convulsively upon my delighted instrument that I could not refrain from spending, making her actually scream with delight as the warm balsam of love seemed to penetrate her very vitals. "'How I burn, how deliciously warm, and it makes me spend more than ever. Oh! oh! frig me in front, dearest, don't let us lose an atom of such heavenly pleasure!" It would weary my readers too much to repeat all our loving exclamations during this long and ecstatic bottom-fuck, but I will merely say that at the end of about half-an-hour, and after I had spent at least six times without withdrawing, we both actually fainted from excess of emotion, which finished our fun for that day, but it is needless to say that the performance was afterwards repeatedly given by special request of my little loving Mary.
In conclusion I may say that if the last incident appears in any way incredible, or if my reader wishes himself to taste of this fresh source of excitement, a line to the author, under cover to the agent from whom this work was procured, will enable him to convince himself by means of practical proof beyond the power of the most incredulous to doubt. Another extraordinary thing I ought to mention, is that the fucking, &c., had such a salubrious effect upon my young patient that she eventually quite got the better of her spinal complaint, and was married at the age of eighteen, but although apparently well and strong, she never had any children. A curious incident befell me soon after losing Mary. I had been very virtuous for a week or two, in order to recover my usual vigour after the unreasonable requirements which my late patient had exacted from me, before she left the shelter of my roof. John Thomas was quite resuscitated by his rest, and I was already casting my eyes around for fresh food for my convent (being a strict bachelor with only an old housekeeper and a very ugly middle-aged woman as servant), when one evening in early spring, a little after dark, I was sitting in my easy chair in the surgery, in a state of reverie, my brain revolving all the luscious scenes of my experience, my prick at the moment actually at full cock, and almost ready to go off itself as I thought of how I had tied Mary down on my couch and ravished her second maidenhead. A desperate ring at the little bell and a heavy rat-a-tat-tat on the small knocker, made me almost jump from my seat. The room was in darkness, but I opened the door quickly, when a female figure rushed in, and stumbling against the mystical sofa, sank upon it sobbing, as if her heart would break. "I'm undone, oh! oh! oh!!! doctor; what shall I do, I can't go home!" My first idea was to light my lamp, then drawing the bolt, I approached the weeping person on the sofa, who I saw at once had been roughly handled, as her dress was torn and patched with dirt in places.
"Come, tell me what it is; who are you, let me see your face. Surely you can trust your doctor if no one else, you are not killed, and apparently only a bit troubled about something, allow me." Saying this I raised her face to see who it was. "Goodness gracious, it is you, Miss Lover? Now tell me all; you can confide in me sooner than your own papa, for I know the rector is very straight-laced!" It was indeed our clergyman's only daughter, a sweet young lady of about twenty whom I had always considered quite beyond the pale of my operations, and a paragon of purity itself. "I'm undone," she sobbed. "Oh, dear doctor, what shall I do?" she said again as she wrung her hands, and floods of briny tears coursed down her crimson cheeks. At last I calmed her a little, and gave her a drop of cordial; then she began to tell me, sobbing all the while, how that no one knew she was secretly engaged to young Pomeroy, the squire's son, because his father would never sanction his son's marrying without money, and you know, doctor, my poor pa has only his living to depend upon, although he is so proud and thinks anyone in holy orders quite equal to the highest in the land. Well, this evening I met George in the lane at the back of your house, and he persuaded me to sit down in the little coppice in your paddock, so as to be out of hearing of anyone going down the lane. He wanted me to elope with him, and at last when every argument failed to persuade me, said he would have me then, if he was hanged for it; how I have struggled you may see, but at last I fainted from mere exhaustion, and only came to myself to find I had been ruined, and that he had left me. (I suppose he thought I was dead)." She still went on sobbing about his brutality, and the ruin he had brought upon her.
At last I persuaded her to allow me to make an examination, and found that he really had effected his purpose, the hymen being broken and bleeding, and her thighs stained with bloody semen. "Let me advise you, my dear young lady," I said, rising from the interesting investigation which you may be sure renewed my previous cockstand, "let me advise you to go home as quietly as possible; I will call my housekeeper who is discretion itself, she will put you right, so that no one will notice anything unusual, then you shall have a lotion to soothe the lacerated parts, and come again and see me about 5 o'clock tomorrow afternoon. I will do even better than your father for you, and perhaps can see George and make him do what is proper, but take my advice, it is no use crying over spilt milk, and time and patience will bring all right in the end. At any rate I will promise to shield you from any ill effects of his brutality that might otherwise bring you to shame and disgrace." She left protesting her everlasting gratitude for all my kindness, and begged me if possible to see George in the morning. I tried to do so, but found he had not been home all night, and had evidently absconded, as he thought he had killed Miss Lover. I awaited her coming at 5 o'clock in a state of excited expectation, and as I nervously walked about my little surgery, kept fumbling a very mysterious something in my pocket (not my prick, but my readers may find out what it was bye and bye), which would impart a magic influence to my fingers, so that when I repeated my examination, and handled the lips of her cunt, her clitoris, &c., the effect would be so exciting that she would be ready to let me do anything to soothe her at once. She arrived within a few minutes of the appointed time. How she blushed as I shook her hand, and told her she looked as beautiful as an angel, that I would do everything in my power to shield her from harm or disgrace.
"Now, take off your hat, and allow me to inspect the damage again, my dear young lady," I said, making her take a seat upon the couch. "It's so delicate, but I suppose I must. Besides you know all, and will keep my secret, won't you, doctor?" she said in a low voice, crimsoning again to the roots of her hair. "Certainly, have no fear of that, but you must remove your skirt, my dear young lady, or I cannot do what is necessary in your delicate case." She reluctantly complied, then I made her lie backwards on the couch, and open her legs as wide as possible, as at the same time I screwed up the lower end of the sofa. Then proceeding with my examination, I fingered both clitoris, lips of the vagina, and passed them quite up into her deliciously tight cunt which was ornamented with a profusion of silky dark brown hair, between which could be seen a pair of vermilion lips, pouting as if ready to be kissed or parted by a roving prick. My touches were magical, the vagina spasmodically contracted on my fingers, and I could see she could scarcely restrain her feelings. "My dear Miss Lover, I'm afraid you may have a baby after such an outrage," I said, "and the only remedy I can suggest is that another man should do the same to you at once, for one will then undo any mischief left behind by the other." "Doctor, Doctor, how awful!' she sobbed. "I would rather poison myself to hide my shame, it is impossible." "Not quite so hopeless as you may think, my dear young lady; this is the antidote, it you will let me insert it in your lovely body," at the same instant bringing the head of my prick to the lips of that lovely cunt of hers. Her position had prevented her from seeing what I was about to do.
This touch seemed electrical, she gave a deep sigh, and then I was soon buried to the hilt in what I once more thought the most delightful grotto of love I had ever yet entered, (but almost every fresh cunt is the same at first), so warm, so tight, such lascivious pressures on my prick, that I kept still for some minutes to enjoy that sense of possession which is so sweet, when you first feel really sure that you are actually in a cunt you have been longing for. When I began to move, it at once stirred up all the hitherto latent fires of an unusually warm temperament. What mutual transports we enjoyed, swimming in a perfect sea of lubricity, she could never have enough, and I was fairly drained, when at last she released me from her arms, and shed tears of remorse over her new-found joy, which she told me she knew was so wicked to indulge in. My readers may be sure my natural flow of eloquence did not desert me at such a crisis, and I can assure them that I made a thorough convert of this virtuous and highly religious young lady, who carried one of the sweetest liaisons of my life for three years, till old Squire Pomeroy died, and his son George came back and married the rector's daughter. In the foregoing incident I mentioned about fumbling something in my pocket, as I walked about the room, and to enlighten my readers as to what that mysterious article was, will relate a little incident which had then only recently occurred to me. We had a wealthy horse-dealer named Parker in our village, whose son John got married to one of the prettiest girls in the place; well, a few days after the wedding poor John, a regular country-bumpkin, came to me one morning in sad trouble. "What be I to do now, doctor, my wife Carry don't go to horse at all, zur?" These were his exact words, as he stood despondently wiping his forehead with a red cotton handkerchief.
I had often cured John of little venereal evils, especially after he had been to London on business. As he was a rare fellow to spend his money on the girls, so I could not help fairly laughing at his question. However, he was serious, and informed me that Carry certainly had suffered him to take her maidenhead, but that there was no pleasure in it then or since, like he had had with common women, and in fact his wife was as cold as ice, merely consenting to let him do it, because he was her husband. I thought the case over for a minute or two, and then told him I thought that if I made an examination I might slyly apply something to make her randy and ready enough to take his prick in future. "I'm good for a tenner, zur, if you can just make her to go horse, a bit, the stallion's up to his work, I know," saying which he took his leave, promising to send her to me in the afternoon. The fact of his being a horse-dealer had given me an idea about ginger, and also made my cock stand so that I was glad to see him go, for fear he should observe it, and refuse to give me the chance of making him a cuckold. Carry had always been a prude, so that when she called in the afternoon, I was almost at a loss, how to open the business. After saying how pleased I was to see her, how well she looked, &c., I went on: "You must not mind me speaking to you, dear Mrs. Parker, seriously upon a subject, which is of the greatest possible consequence to the future happiness of both yourself and husband. In fact, he has seen me upon the subject of your being so cold and unsympathetic in the act of love, the act of coition, I ought rather to say, which unless enjoyed and fully entered into by both male and female, causes so many separations, divorces, &c. Besides you would have no children. How would you like John to go after other girls, because he has no pleasure with you? It is such a serious business, that you ought to let me make an examination, as I hope to be able to make both of you grateful to me for the rest of your lives." After all sorts of objections and difficulties she at last seated herself on the throne of bliss, as I called it (my sofa), and allowed me to raise her clothes. I did everything with the greatest possible delicacy, telling her she had better cover up her eyes, &c. Then I examined most minutely one of the most delicious little cunts, I had ever looked into, a beautiful pinky little slit, shaded by the softest brown hair, with a delightful little pink orifice beneath it. That was where my gingered fingers first touched her, then they slowly opened the luscious lips of her love-gap, squeezed the clitoris, and gently rubbed a little inside, till I perceived very evident sighs of rapidly increasing excitement. You may be sure my cock was ready enough, so I gently introduced him to Venus' wrinkle, and John's big tosser had so effectually opened her, that I had no great difficulty in slipping in, as she was already spending and almost unconscious from excess of emotion. I spent too almost directly, (in fact, I afterwards found I really made her first baby), and then throwing my arms around her, I glued my lips to hers as I pushed on, and asked if she did not like it now. "Could you, my darling, now refuse such bliss?" I exclaimed, as I spent for a second time. "You will go home and enjoy it with your husband in future, won't you?" She kissed me in her frantic state of lubricity, and shed tears of sorrow to think she was not my wife, instead of John's, but as this was out of the question, she made the best of a bad job and called in my professional assistance upon every possible occasion, telling me to charge for it well in my bill, as John really owed me so much for teaching her the real joys of fucking. Next morning her husband burst into my surgery. "Hi, Hi! Ha, Ha!! Doctor, yer made her go to horse rights now, thars her tenner, and that's only a quid of time. Ten times, zur help me God, she helped herself, when I couldn't quite come to time. When yer want a good fuck, try ginger-boys, she told me, what yer put on her, what a fool not to think of 'it myself. But it's the best I ever had for my rhino, Lunnon, or anywheres!" It is really surprising, how many married women actually pass through life without ever feeling the real pleasure of coition. I consider that medical advisers ought to catechise young married ladies on the subject, and that it is their duty to enlighten the fair but cold innocents to the joys they lose, by simply submitting to the marriage-rites as a necessity, and not entering into the spirit of the fun. In the foregoing pages I have endeavoured to give my readers a brief outline of my intrigues and adventures as far as they could be entered upon in so limited a space and I can only say, that if they enjoyed as many opportunities on their wanderings as have fallen to my share, they ought to have as lively a recollection of them as myself, for pleasure, though the actual indulgence of it vanishes, yet leaves the recollection ever vivid in the minds of those who have partaken of her sweet and luscious cup.